Spanish Ceramics: Explore The Variety of Spanish Pottery
Ceramics have been a Spanish tradition for centuries. They are an essential part of Spanish culture. The tradition of making pottery is thought to date back as far as the Neolithic period and has been a part of Spain's heritage for centuries. The tradition continues today in many different varieties and styles that are sure to catch your eye. Whether you're looking for something modern or traditional, we've got it all! Shop Now. In this blog post, we'll explore different types of ceramics in Spain and tell you about some of the most popular types and how they're used today.
Typically Spanish ceramics are painted with bold colours and patterned, traditionally they would have been used for serving or eating from, but they can also be ornamental and decorative in nature. Nowadays Spanish ceramics are enjoyed all over the world as tableware and table setting pieces, or homeware and decoration, and can be found throughout Spain as a symbol of tradition and heritage.
Whether you're looking to discover a little more about Spain and its affinity with pottery or if you're looking for some inspiration to find unique traditional homeware or contemporary tableware, this article will guide you through the rich Spanish landscape.

Earthenware pottery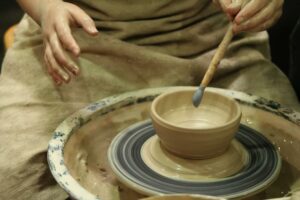 Earthenware pottery is defined as a ceramic material that is fired at a relatively low temperature, and it includes tableware ceramics which are used for dining purposes while ceramic homeware is typically more decorative in nature, such as coffee cups or teacups, along with porcelain ceramics like plates, bowls and mugs all of which can be found on our website.

A few of the most popular types include:

Talavera Ceramics
A type of earthenware that's painted with rich colours over a white base. Talavera ceramics have been around for centuries and they're still popular today. They date back to the 16th century in Puebla de los Angeles, a city in Mexico. They were originally made from clay that was found on site but nowadays artisans use handmade clays from all over Spain. The craftsmanship is truly amazing – many people say it rivals even the ceramics that were made in China. Talavera ceramics are famous for their vibrant colours and usually have traditional designs of flowers, fruit or animals on them – but there are some with more modern patterns as well.
Many people think they look like porcelain due to their translucency, so if you're looking for something different than earthenware pottery then consider a set of Talavera. They work great for both inside and outside your home decorating projects since they're very durable!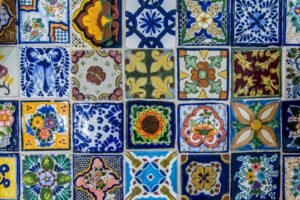 Majolica ceramics
Another type of earthenware that is often decorated using enamel decoration techniques. Majolica ceramics date back to the medieval period and they're thought to have originated in Italy but they were later perfected by Spanish artisans centuries ago as well!
They are characterized by their green, blue or yellow glazes over a white background and they're often used to create tableware sets that include plates, bowls, dishes and mugs. The process of making them includes carving out designs onto clay tiles which can be difficult and time-consuming work – so these ceramics tend to be more expensive than other types too.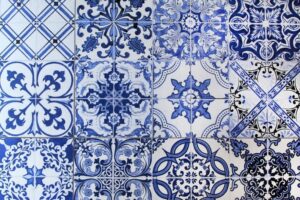 Porcelain ceramics
Porcelain ceramics is another type of ceramic you'll find throughout Spain today. Porcelain ceramics are typically translucent so they may be thinner than other ceramists depending on the manufacturer.
Porcelain ceramics date back to the Ming Dynasty and they were actually first made in China but Spanish artisans later perfected their own versions of these ceramics centuries ago as well!

Ceramic Tableware
Ceramic tableware has been a staple throughout history because it's durable enough to use on a daily basis but also beautiful enough to be displayed when guests come over so everyone can see what kind of taste their hosts have! They are often made with white backgrounds which gives them a clean and modern look so they match any type of decor. Authentic Spanish pottery is handmade and handpainted, making every piece unique. Typical Spanish tableware includes bowls, plates, dishes, fruit bowls, jugs, tapas, cups, mugs, bottles, olive dishes, butter dishes and more. Whether you're looking for a tableware set or individual and unique items Verano is the home of online ceramics.

Ceramic Homeware
When ceramics are used for homeware, the patterns become more important than the background colour because it's what you'll see first! We carry ceramic homeware that includes plates, bowls, dishes and jugs, mugs, pots, planters, in a range of different styles, patterns and colours. The beauty of ceramics makes them perfect to mix with other styles if your home is decorated using multiple themes – especially when it comes to hosting guests!

Ceramic Kitchenware
Ceramic kitchenware has been and continues to be so popular because ceramics are durable enough to use on a daily basis but they're also beautiful and look great in your kitchen. Typical ceramic kitchenware includes fruit bowls, utensils, serving platters, storage jars for coffee or tea bags, wine coolers, oil drizzlers, condiment pots, oven dishes and tagines. View our shop to see all our contemporary ceramics.

Perfect Gifts
Ceramic tableware and homeware make ideal gifts, whether as wedding gifts, anniversary gifts, Christmas gifts or just as a memorable gift either to someone special or even just as a treat to yourself. Not only are they functional, beautiful and memorable but they can last a lifetime so they are sure to bring lots of joy and get plenty of use. Not to mention the vast array of styles, colours and patterns that makes finding a unique and perfect gift easy. Take a look at our gift guides – How to buy a gift: the beginners guide, 10 Wedding gift ideas and 10 Kitchen Wedding gifts nobody else will think of. Also, check out out our ceramic mugs here perfect for gifting.

Verano Ceramics
We here at Verano Ceramics are on a mission to provide top quality ceramics and our vision is to bring beautiful and contemporary homeware and tableware to every home. Whether you're looking for tableware, kitchenware, homeware or decorative statement pieces – we've got what you need! If you're looking for something modern or traditional, we've got it all! Our ceramics are perfect if you're looking to revamp your kitchen or add something new to it – we ship all over the UK.
We source Spanish Ceramics straight from the artisans of Spain, and we hold a large UK stock holding, enabling us to deliver perfect ceramics straight to your door, Verano Ceramics is the best place to shop ceramics online. We also stock unique collections of olive wood, recycled glass and home fragrance products.
We offer free UK delivery on all orders over £100 that are placed online so order now and get your Spanish ceramics delivered to your doorstep in no time!
Also be sure to subscribe to our email list for exclusive offers, discounts, promotions and new product announcements, sign up here. View all our modern tableware in our online shop and be sure to check out our range of ceramic bowls, ceramic plates and plates and bowls sets, also see our on sale items for discount ceramics available now.